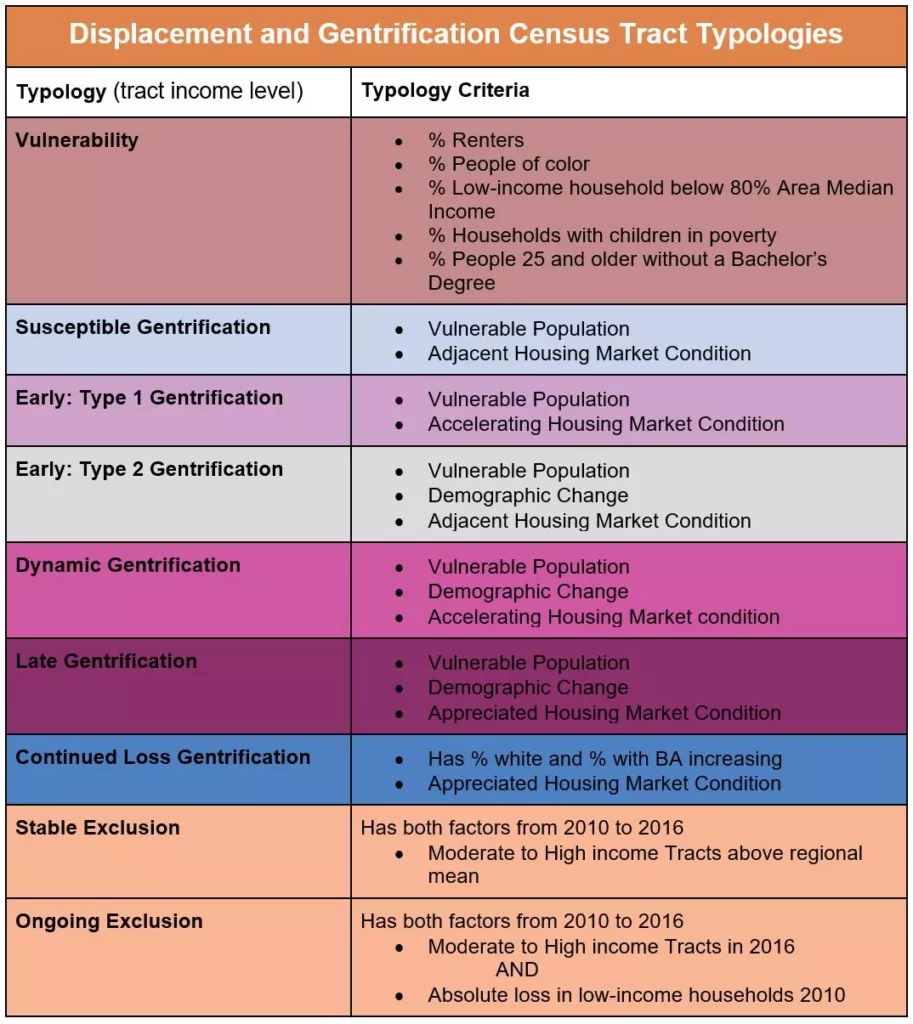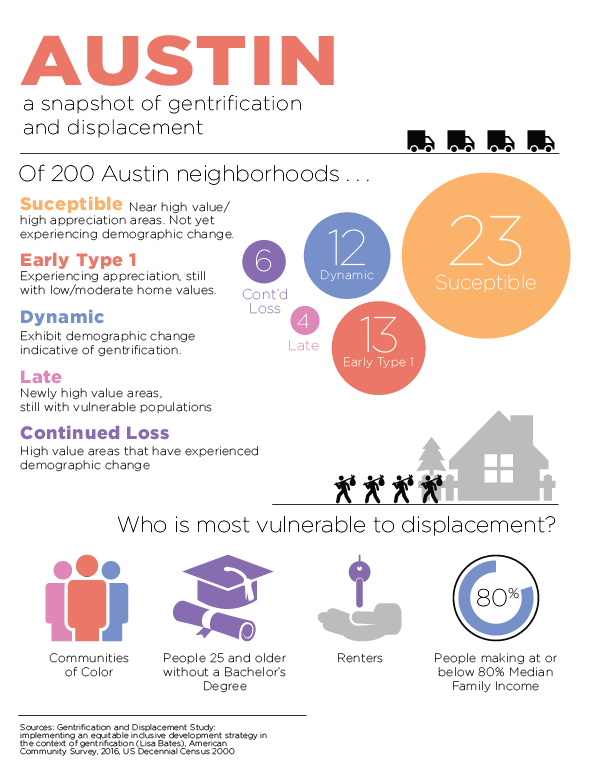 Mapping Displacement and Gentrification in Austin, Texas
Austin, the capital city of Texas, is facing redevelopment pressures and rising housing costs, resulting in the displacement of vulnerable residents, including low-income renters, low-income families with children, and persons of color, especially African American and Latinx residents.
In 2018, researchers at the University of Texas at Austin created The Uprooted Project to better understand the nature of gentrification in Austin and pinpoint where early intervention can help mitigating displacement in the face of neighborhood changes. . The Urban Displacement Project worked in conjunction with the Uprooted Project to add an analysis of exclusion to its gentrification typology. Exclusive areas are zones that has been historically occupied by moderate to high income residents that are becoming even more exclusive through the loss of low-income residents or the inability of non-affluent households to move in. 
1. The "Eastern Crescent", which historically has been home to the Austin's most vulnerable population, has seen the highest rise in housing costs.
As these neighborhoods become more desirable to higher-income households, low-income residents are no longer able to move in and instead move to lower-cost areas on the outskirts of the city. Our exclusion study shows that exclusive tracts are mostly West of the highway I-35.   
2. Leaders in Guadalupe Neighborhood have sought to preserve the neighborhood character with affordable housing under community control for long-term low-income residents.
To mitigate displacement of vulnerable residents, strategies and tools such as early and strategic land acquisition, preference policies, community land trust, and property tax breaks for permanently affordable properties were used to create 91 long-term affordable units with 26 more underway and 8 affordable homeownership units.
3. Homeowners in gentrifying neighborhoods are hit particularly hard.
Central East Austin and a few neighborhoods south of Ben White Boulevard have the highest property tax delinquency (2 years or more) and homestead exemptions. Even with senior tax exemptions, Austin's seniors still experience high tax burdens as the city property taxes increased by at least 100% from 2006 to 2015 for homeowners, outpacing increases in income. Low-income senior homeowners thus face a higher rate of tax delinquency. Through Texas laws, cities are restricted from providing targeted property tax relief that would allow seniors and persons with disabilities to defer their property taxes until their death or when their homes are sold.
Amelia Adams
Nicholas Armstrong
Ben Martin
Alex Radke
Alice Woods
Lauren Loney
Katy Byther